This is a very quick, planet-friendly dish with a lot of flavor. It was kindly donated to this site by Philipp of Exceedingly Vegan. Please find the original recipe and so much other great stuff here.
You can make this on a night that you really don't have much time for cooking, but want something healthy, warm, and delicious.  If you want to keep it even more simple, leave off the tofu–there is plenty to the dish without it.  This cuts your prep time down.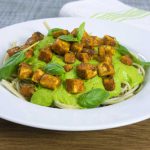 | | |
| --- | --- |
| | |
Start by squeezing the water out of 200g of tofu (you can either do this with a tofupress or yourself - see directions on Exceedingly Vegan's site. I often just wrap tofu in a hand towel or two, put a layer pan on top of it, and pile some cans onto the layer pan for weight.

Boil pasta or noddles in water with a bit of oil and a dash of salt.

Dry toast (no oil) the pine nuts in a large pan for about 5 minutes. Make sure they don't burn (they burn easily). This will bring out their flavour much more.

Using either a large blender or a small blender (then you will have to do this in 2-3 batches) add all pesto ingredients and blend until you get a smooth pesto.

After the water has been squeezed out of the tofu cut it into small cubes and add them to a bowl. Add all other crispy tofu ingredients as well and mix up by shaking the bowl (put a plate on top so you don't make a mess).

Heat up some oil in a large pan and fry your tofu cubes until they get crispy. (You can keep this oil-free by just browning the tofu in a pan.)

Plate your dish with the pasta or noodles at the bottom, then pour the pesto on top (you could even heat it up quickly if needed) and then sprinkle the crispy tofu cubes on top. Enjoy!
After making side by side versions both with and without the nutritional yeast, I added the note that the nutritional yeast is optional.   I liked it both ways equally, and the two people I cooked for like it better without the nutritional yeast.
You can use leftover pesto on top of a baked potato or steam veggies!  It is delicious!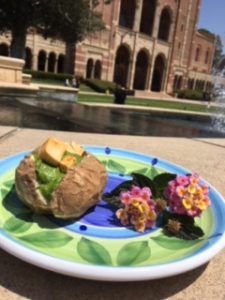 Carbon footprint info:
This recipe
GHG emissions

for amount in recipe (g CO2-eq)

A traditional recipe
GHG emissions

for amount in recipe

(g CO2-eq)

Pine nuts
117
Pine nuts
117
Avocado
191
Cheese
558
Spinach
13
Spinach
13
Basil
21
Basil
21
Garlic
1
Garlic
1
Olive Oil
38
Olive Oil
196
Total for sauce
380
Total for sauce
905
Tofu
84
Chicken
505
Total sauce plus tofu
464
Total sauce plus chicken
1410
You can see the reductions in carbon footprint that come with the omission of dairy and chicken.  Cheese has a relatively high carbon footprint (around 10 g CO2-eq per gram of cheese), due in large part to the methane produced through the cows' natural digestion.
Chicken has a carbon footprint of 5.05 g CO2-eq per gram of chicken, which is higher than that for tofu (0.84 g CO2-eq per gram of tofu).
Making this recipe with tofu rather than the traditional with chicken saves the amount of emissions in a four-mile drive in a 40 MPG car, and it's 25% of your per capita Paris Climate Accord Target!  Learn more about Taking Climate into Your Own Hands and Low Hanging Fruit for a Low Hanging Life.
Planet-saving tip: When cooking pasta, try not to boil too much water.  All that energy really adds up. And, be sure to use a lid.  The excellent book How Bad are Bananas? The Carbon Footprint of Everything has a discussion of this.  You can find it on the Resource page here.  In general, forgetting to use a lid wastes 20% of the heat, and having flames up the side wastes another 20%.
Remember to check out Exceedingly Vegan for beautiful and delicious dishes.
Conversion Factor Sources:
Most of the footprint conversions for this recipe come from Heller and Keoleian (2014) (see below for full citation). However, there is no value for tofu, so we used this reference.  We averaged the values of 0.814 g CO2-eq / g for conventional tofu and 0.857 g CO2-eq / g organic tofu.
Heller, M.C. and G.A. Keoleian. 2014. Greenhouse gas emission estimates of U.S. dietary choices and food loss. Journal of Industrial Ecology.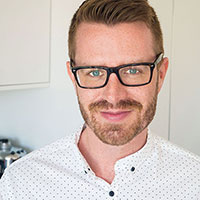 Some words from Philipp on his site, Exceedingly Vegan
I started this blog to show how easy and exceedingly delicious vegan food can be, not just for vegans but for omnivores alike. Cooking is all about fun and pleasure and whenever I discovered a new yummy new recipe I got so excited that I wanted to share it with everyone. The aim of Exceedingly Vegan is to be inclusive; food is about enjoyment and sharing. I want everyone to sit together at a table and enjoy amazing food. It's not about becoming a vegan, but about opening people's minds to the amazing variety of luscious vegan dishes. My aim is to inspire people and help them open their minds (and mouths). I do believe a plant based life style is better for the planet, better for your health and of course better for animals but I know for most people this is a journey. If you are vegan, just want to try a vegan dish for the first time or incorporate more plant based meals into your diet, you are all welcome. After all life is a journey and everything starts with the first step (or dish).