These cookies are completely decadent and delicious.  You can make them somewhat healthier by using up to 50% white whole wheat flour.  The recipe was adapted from Isa Chandra Moskowitz's recipe in Vegan with a Vengeance.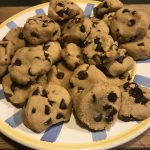 | | |
| --- | --- |
| | |
Preheat your oven to 350. Cream the vegan butter and sugars together.

Add the vanilla and beat together.

In a separate bowl, mix (or sift) flour, baking soda, and salt.

Add the dry ingredients to the wet and mix. It may seem crumbly but when you squeeze the dough as if to form a cookie, it should hold together.

Mix in the chocolate chips.

Make small disks about the size of a rounded tablespoon. Place on an uncreased cookie sheet.

Bake for 8-10 min. Let cool 5 min on the sheet before moving.
Carbon footprint info:
The carbon footprint of 1 cup of vegan butter is 305 g CO2-equivalents, while one cup of dairy butter has a footprint of 2,670 g CO2-equivalents, so by making the choice to bake with a vegan butter, you are saving 2,365 g CO2 equivalents.  This is 65% of the daily per capita target for the Paris Climate Accord.  Why is this difference so large?  It's because cows are ruminants, which means they produce methane as part of their natural digestion.  The carbon footprint conversion for butter is 11.92 g CO2-eq/g butter, and that for vegan butter is 1.36 g CO2-eq/g.  For more information on the per capita Paris Climate target, see Taking Climate into our Own Hands and Low Hanging Fruit for a Low Carbon Life.
Source for greenhouse gas emission data:
Heller, M.C. and G.A. Keoleian. 2014. Greenhouse gas emission estimates of U.S. dietary choices and food loss. Journal of Industrial Ecology. DOI: 10.1111/jiec.12174