Hummus is a great staple food because it is delicious, filling, and high in protein.  It will help you increase the amount of veggies you eat, b/c you can dip pretty much any veggie in it or make lettuce wraps.  In addition to these benefits, hummus is easy on the planet!  It is plant-based–so it avoids the more carbon-intensive foods, and beans have the lowest carbon footprint of any protein-rich food.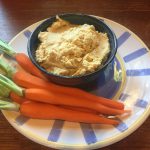 | | |
| --- | --- |
| | |
Rinse the chickpeas and put them in the blender along with all of the other ingredients.

Blend until smooth. You can add water or olive oil to adjust the consistency.

Enjoy with veggies, crackers, or pita!
Carbon footprint info:
This hummus has a carbon footprint of 104 g CO2-eq per serving.  The chickpeas account for the bulk of it (89 g CO2-eq), while the small amounts of tahini, lemon, garlic, and cumin contribute 3, 11, 0.4, and 1 g CO2-eq per serving, respectively.  For comparison, a block of cheese with the same calorie count (127 kcal) has a carbon footprint of 318 g CO2-eq.