This meal is hearty and delicious, and has a tiny carbon footprint compared to its counterpart.  It's from Forks Over Knives, one of my go-to websites for recipes.  Click here for the full original recipe with portobello and porchini mushrooms.  I made this dish with crimini mushrooms, since that is what I had on hand (see below for pic).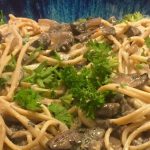 | | |
| --- | --- |
| | |
Saute shallots or onions over medium heat for a few minutes, adding water a bit at a time to avoid sticking.

Add the garlic and thyme, and cook for another minute.

Add salt, pepper, rosemary, mushrooms, and wine. Cook for 20 minutes or so.

While it's cooking, cook up your pasta according to the directions.

Next, blend together the tofu with lemon juice and vinegar.

When the mushrooms looked cooked, add the tofu mixture, and toss it with the noodles. Top with parsley.
The carbon footprint associated with the ingredients of this dish (1,141 g CO2-eq for the whole recipe) is dramatically lower than that for a comparable dish with beef (13,443 g CO2-eq for the whole recipe) instead of the Portobello mushrooms. The reason for this is that cattle are ruminant animals, so the carbon footprint includes not only all of the feed that goes into raising the animals, but also the methane and nitrous oxide (both potent greenhouse gases) associated with the animals' metabolism and manure. See below for an ingredient by ingredient breakdown of carbon footprint for the major components of this recipe.
Carbon footprint of the ingredients:
Ingredient

(this recipe)

Carbon Footprint

g CO2-equiv

Ingredient

(w beef)

Carbon Footprint

g CO2-equiv

Onion
88
Onion
88
1 lb Portobellos
332
1 lb Beef
12,035
1/2 lb Criminis
166
1/2 lb Criminis
166
12 oz. Tofu
286
12 oz. Sour Cream
887
4 cloves garlic
4
4 cloves garlic
4
1 lb pasta
264
1 lb pasta
264
Total
1,141
Total
13,443
The difference, (12,302 g CO2-eq) is equivalent to taking a 55 mile drive!!  This really adds up—if you made a similar shift once a week for a year, it would equal the carbon equivalents of driving 2,860 miles!!
To keep your carbon footprint low, try not to boil more water than necessary when making your pasta.  There's a great book by Mike Berners-Lee called How Bad are Bananas?  The Carbon Footprint of Everything.  I found it a great read.  (You can buy the kindle or paperback version on Amazon here.) In the book, the author gives estimates of the carbon footprint of heating water in various ways.  Stove top kettles are the most efficient efficient, resulting in a footprint of 50 g CO2-eq per quart of water.  An electric kettle has a footprint of 70 g CO2-eq to boil a quart, while a saucepan on the stove without a lid and with flames up the side has a footprint of 115 g CO2-eq.  In general, forgetting to use a lid wastes 20% of the heat, and having flames up the side wastes another 20%.
Even if you are just making tea, it's a great idea to make sure you are only heating the water you need.  Adding double the amount of water to the kettle can increase the carbon footprint of your tea by 20 g CO2-eq. (This statistic is also from the How Bad are Bananas? The Carbon Footprint of Everything book.)
Enjoy!  And please follow the blog for more recipes!
Conversion Factor Sources:
Most of the footprint conversions for this recipe come from Heller and Keoleian (2014) (see below for full citation). However, there is no value for tofu, so I used this reference.  I averaged the values of 0.814 g CO2-eq / g for conventional tofu and 0.857 g CO2-eq / g organic tofu.
Heller, M.C. and G.A. Keoleian. 2014. Greenhouse gas emission estimates of U.S. dietary choices and food loss. Journal of Industrial Ecology.