This recipe makes a delicious, quintessential peanut butter cookie.  It's from a great cookbook by Alicia Simpson, which you can check out here.  The author has graciously agreed to let us publish her recipe and the carbon footprint on this site.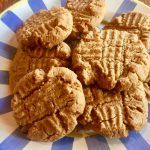 | | |
| --- | --- |
| | |
Preheat oven to 375 degrees F.

Mix the first four ingredients together. You can use an electric mixer if you have one handy, but it's okay if not. Mix in margarine and peanut butter, then the applesauce and soy or almond milk. You should mix together the baking soda and salt with the flour before adding it to the mixture, so you don't get clumps.

Make 1" balls, drop them onto an ungreased cookie sheet, and use a fork to make a cross-hatch pattern.

Bake for 9-11 minutes, depending on how crunchy you like them.
Carbon footprint info:
These cuties have just 30 g CO2-eq per cookie, with 10 g CO2-eq coming from the peanut butter, 4 g CO2-eq from each of the sugars, and 5 g CO2-eq from both the margarine and the flour.  The applesauce contributes less than 1 g CO2-eq, and the soymilk less than 0.5 g CO2-eq, all per cookie.  If you used butter instead of margarine, the difference in impact would be a whopping 51 g CO2-eq per cookie, for a total of 81 g CO2-eq per cookie (the added butter contributes 56 g CO2-eq per cookie, roughly twice the total of all of the other ingredients)!!  An egg added to this recipe would contribute 7 g CO2-eq per cookie.
Baking just one batch of cookies with a plant-based margarine saves the equivalent of taking a 6 mile drive in a 40 MPG car.
This calculation shows the important role cutting down on dairy can play in reducing our carbon footprint.  The reason is that cows are ruminant animals, which means their natural digestion process produces methane—a greenhouse gas with greater warming potential than CO2.  In fact, an omnivorous diet very low in dairy can have a smaller footprint than a vegetarian diet that includes lots of cheese and milk.
If you are into low or no added sugar desserts, please stay tuned!  I will be adding some great recipes along those lines soon.
Note:  These calculations use conversion factors from: Heller, M.C. and G.A. Keoleian. 2015. Greenhouse gas emission estimates of U.S. dietary choices and food loss. Journal of Industrial Ecology. 19(3): 391-401.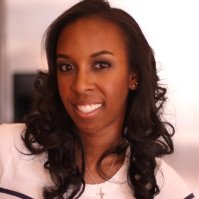 About Chef Alicia Simpson
Alicia C. Simpson has been cooking since she was tall enough to reach the stove. Alicia, MS, RD, IBCLC, LD, is a certified lactation consultant and registered dietitian specializing in maternal and pediatric nutrition. She is the executive director and founder of a nonprofit clinical lactation practice, Pea Pod Nutrition, providing nutrition and lactation education and support. She has also previously authored three cookbooks, including Quick & Easy Vegan Comfort Food, and is the creator of the popular blogs Vegan Guinea Pig and The Lady and Seitan. She lives in Atlanta, Georgia.