Creamy vegetable soups can vary really widely in impact on the environment, because creaminess can come either from dairy (relatively high environmental impact), or from alternatives including potatoes, cashews, or soy milk (less greenhouse gas intensive).
For this quick and easy recipe, two small potatoes are cooked up with onion in vegetable broth, with broccoli added later.  The whole mix goes into your blender (or you can immersion blend), and you can season with salt, pepper, lemon, etc.  If you like nutritional yeast, this is a great place for it to introduce a cheesy touch, but it tastes great either way!
See here for the original recipe that inspired this one from Bon Appetit, which has you saute the onion in oil.  In the modified version shown here, you can saute in water if you are trying to avoid added oil.  I also added garlic and lemon.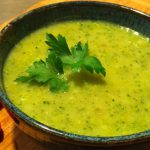 | | |
| --- | --- |
| | |
Simmer the chopped potatoes and onion in broth for about 10 minutes.

Add the broccoli and simmer another 10 minutes, until everything is tender.

Immersion blend (or you can allow it to cool and carefully transfer it to your blender, and then back to the saucepan).

Season it to taste with salt, pepper, garlic powder, and lemon. If you like a cheesy flavor, you can add nutritional yeast.
Assuming 4 servings, the carbon footprint of this recipe is a climate-cooling 64 g CO2-eq per serving!  About half of that footprint comes from the broccoli, with the potato, oil, and onion making up the rest.
Contrast this with a traditional recipe, which has a whopping footprint of 472 g CO2-eq per serving! 89% of the footprint comes from butter and half and half!!