These vegan snickerdoodles are delicious and easy on the planet!  This recipe was kindly donated by Namely Marly.  It is decadent while also packing in some good nutrition, with lots of peanut butter and whole wheat flour.  Please click here for the original recipe for Snickerdoodles with additional photos and info.  Namely Marly has many other incredible recipes, particularly the vegan Texas Sheet Cake!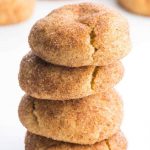 | | |
| --- | --- |
| | |
Place the vegan butter, peanut butter and sugar in a mixing bowl. Using a stand mixer or regular mixer, mix on medium speed until creamy, about 2 minutes. Add the applesauce, milk, vinegar, and vanilla and mix until combined.

In a separate bowl, add the flours, cream of tartar, baking soda and salt. Stir until combined.

Add dry ingredients to wet ingredients. Mix well. Refrigerate the dough for 30 minutes. (see note for a faster way to do this)

Heat your oven to 350F. Get out a cookie sheet.

Shape the dough into balls slightly smaller than a golf ball. 
Pour the sugar and cinnamon together in a bowl.

Roll cookie dough balls in cinnamon sugar until well-coated.
 Place on cookie sheet approximately 2 inches apart.

Bake for 8-10 minutes. Remove from oven and allow to cool for a minute or two on the cookie sheet before transferring to an wire rack to cool completely.
It's tempting to leave these cookies in the oven a little longer, but they firm up as they cool.
If you want equally-sized cookies, measure the entire ball of dough and then divide by 36 to determine the size of each cookie dough ball. For me, the entire ball of dough weighed 32.25 ounces, so divided by 36, my individual cookie dough balls weighted .90 each.
On sugar: I used turbinado (raw sugar), but coconut sugar would work well in this recipe too. If you don't have either, granulated sugar works fine.
If you're in a hurry, cut the dough in half and wrap both in plastic wrap. Place both dough balls in the freezer. Wait ten minutes, remove one of the dough balls and begin rolling into individual cookie dough balls. Bake those and then remove the second dough ball and begin rolling it into individual dough balls.
Carbon footprint information for the major ingredients in this recipe:
| | | | |
| --- | --- | --- | --- |
| This recipe | GHG emissions for amount in recipe (g CO2-eq) | A traditional recipe | GHG emissions for amount in recipe (g CO2-eq) |
| Vegan butter | 152 | Dairy butter | 1,335 |
| Peanut butter | 248 | Peanut butter | 248 |
| Sugar | 184 | Sugar | 184 |
| Applesauce | 79 | Applesauce | 79 |
| Soy or almond milk | 14 | Dairy milk | 81 |
| Flour | 207 | Flour | 207 |
| Total | 886 | Total | 2,136 |
Per cookie, this recipe has a footprint of 25 g CO2-eq, compared to 59 g CO2-eq for the traditional one.   Changing your snacks alone can really add up for the planet!   An afternoon snack of vegan milk and two of these cookies has a footprint of 137 g CO2-eq.  A similar snack of dairy milk w tradition cookies has a footprint of 445 g CO2-eq.  The reason for the difference?  The dairy milk and butter.  Cows are particularly hard on the climate due to the methane that is produced as part of their natural digestion.   This holds for both grass fed and more intensively raised cows.   Changing out just this one snack a day for a more planet-friendly option amounts to 8% of the per capita Paris Climate Accord target of 3,660 g CO2-eq per day—that's the reduction that everyone in the US would need to achieve to add up to the 447 million metric ton reduction that is in accordance with the agreement. Foods are an easy way to achieve that target.  Switching out a meal of beef chili for Indian dahl (a lentil soup) amounts to 81% of the target! Transportation changes are also very effective ways to reduce your footprint.  Giving up one 10 mile drive also gets you around 80% of the way to 3,660 g CO2-eq! Please see here and here to learn more about the per capita Paris Climate Accord. Please visit Namely Marly for more of her great recipes!!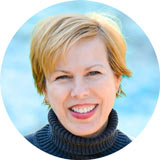 Marly McMillen Beelman of Namely Marly
Founder and Creative Director, Marly is a former consultant, executive director and COO turned entrepreneur! She has an MBA from the University of Missouri-Columbia and worked her way up the corporate ladder, but all the while had her eye on creating her own career path. She's passionate about living a high energy life and earned a certificate in Plant-based Cooking/Health from Rouxbe Cooking School to help better hone her skills in developing and sharing vegan recipes. Marly's creative flair doesn't only reside in the kitchen. Marly has a background in business including former executive experience, she's a volunteer member of her community Parks and Recreation board of directors, she's the director of the Chopped Conference and the host of the Chopped Podcast, and a previous volunteer for the Small Business Development Center. Learn more about Marly here.