This delicious vegan Velvety Kale Soup with a Cashew Cream by Spork Foods will help you get your greens, is easy to make, and is easy on the planet!  The Spork Foods sisters Jenny Engel and Heather Goldberg are creative and upbeat, with gorgeous and decadent recipes for everyday and special occasions.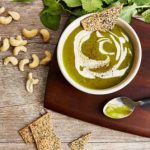 | | |
| --- | --- |
| | |
To roast garlic, pre-heat oven to 375°. Slice off top of bulb. Place cut side down, in an oiled heat-proof baking dish and sprinkle with sea salt and pepper. Roast for 35 minutes, or until cloves are soft. Set aside.

Heat a large pot over medium heat. Add buttery spread, onion, and roasted garlic. Cook for about 3 to 5 minutes, until slightly softened. Add potato, bay leaf, sea salt and pepper. Cook for an additional 2 to 3 minutes.

Add kale and spinach and sauté for about 3 more minutes to wilt.

Add wine and broth. Reduce heat to a simmer and cook, partially covered for about 18 minutes, or until potatoes are very tender. Discard bay leaf.

Using an immersion blender, puree soup. Alternately blend soup mixture in a blender, with middle of lid removed, covered in a clean kitchen towel. Only fill blender half way at a time, to prevent spillage. Season to taste with salt and pepper.
Add cashews, lemon juice, soymilk creamer or almond milk, garlic powder, sea salt and pepper to a blender or food processor and blend until smooth. Set aside.

When serving, drizzle each portion with cashew cream.
I first cooked this according to the instructions, and it was fantastic.  I also cooked it by omitting the vegan margarine and just throwing all other ingredients up through the broth in a pot to simmer.  When veggies were soft I added unsweetened vegan milk (rather than creamer) and blended.  It was again fantastic! Also, if you are in a hurry, the soup alone (without the cashew cream) is more than delicious.
The carbon footprint of the major ingredients for this recipe (and a dairy-based soup for comparison) are as follows:
This recipe
CO2-eq (grams for this recipe, 4 servings)
Dairy-based soup
CO2-eq (grams per recipe, 4 servings)
Onion
43
Onion
43
Vegan butter
38
Butter
336
Garlic
4
Garlic
4
Kale
63
Kale
63
Spinach
12
Spinach
12
Potato
31
Vegan milk
56
Dairy creamer
651
Total
247
Total
1109

 
Cre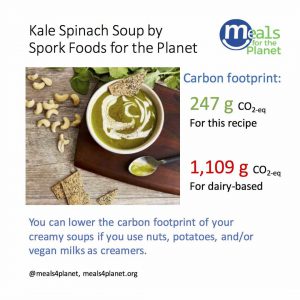 aminess in soups can come from any combination you may have on hand of potatoes, cashews, and vegan milks.  The carbon footprint is much lower than a dairy-based soup due to the high greenhouse gas emissions involved with production of any ruminant animal product (beef, lamb, cheese, dairy).  These emissions come from methane production from the ruminant digestive process, the feed required to raise the animal, and manure management  The numbers speak for themselves.  For example, according to a review of the literature by Heller and Keoleian (2014), average values for the carbon footprints of butter and vegan butter are 11.9 and 1.36 grams of CO2-eq per gram, respectively.
Spork Foods kindly gave us permission to use this photo and recipe on the meals4planet.org site.  Be sure to check out their website at sporkfoods.com for cooking classes and amazing recipes.  Their cookbook, Spork Fed, has wonderful recipes for everyday and special occasions.
Sources:
Heller and Keoleian (2014) Greenhouse gas emission estimates of U.S. dietary choices and food loss. Journal of Industrial Ecology. 19(3):391-401.
Meier and Christen (2013) Environmental Impacts of Dietary Recommendations and Dietary Styles: Germany as an Example.  Environmental Science and Technology, 47: 877-888.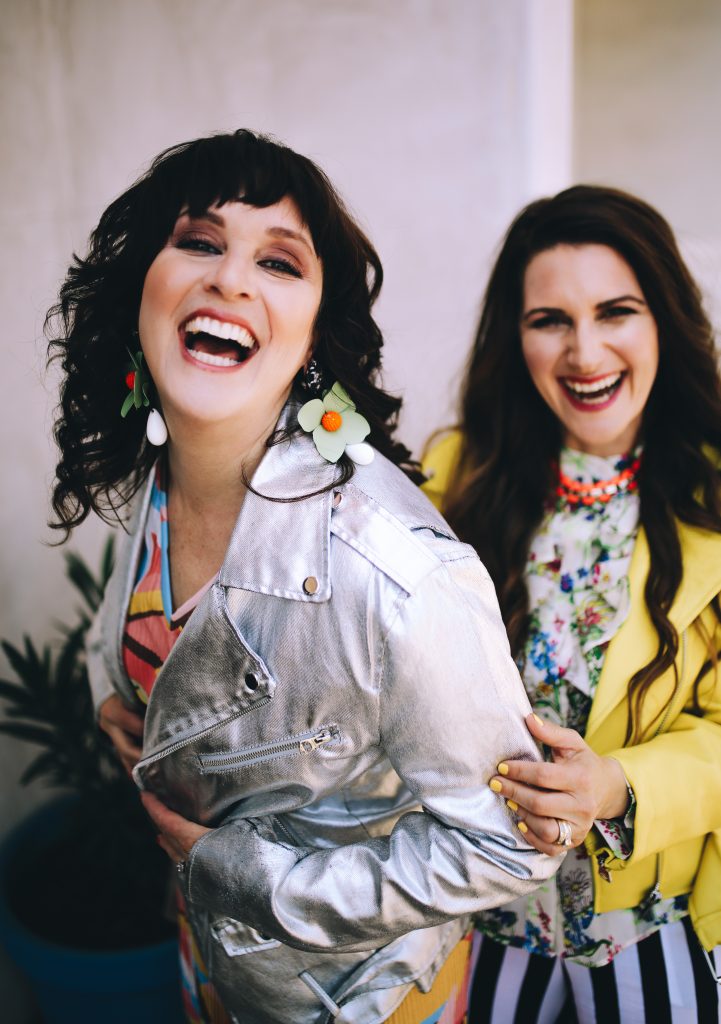 Some words from the Spork Sisters
Hello! We're Heather and Jenny, the sisters and co-owners of Spork Foods.
We founded our company over a decade ago as a way to share our love of vegan cooking with the world – helping people make healthier, more compassionate choices. Vegan cuisine is our passion and it's our mission to bring simple, yet delicious recipes into as many peoples' lives as possible.